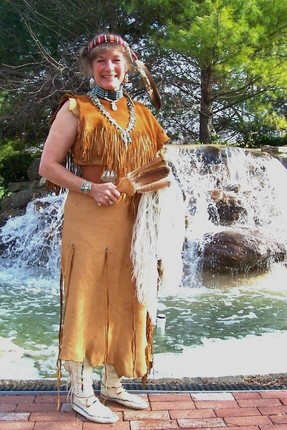 Writer, Illustrator, and Naturalist

White Song Eagle is an adopted member of the Eagle Clan of Metosine Meshingomesia Band of Miami Indians of Indiana. She is said to walk with one foot in two worlds and has been interacting with the illusive Sasquatch people since childhood. She was an "awakened child" recalling past lives and has been taking instruction from her teachers on the other side who have guided her and shown her the life that lay ahead of her.
Having experienced death as an adult she has been touched by the Unknowable or what we call God and has a unique advantage of the perception of what we call reality. Her understanding of what is going on has opened a door for her to investigate Big Foot up close and personal. Much of her understanding is correlated with the book "A New Earth" by Eckhart Tolle from the Opra show.
A born naturalist, White Song has a background in animal husbandry. She has been a professional groom and trainer for equines and canines, worked with veterinarians and in Gnotobiotics and is a certified assistant lab technician and thrives in the outdoor environment.
She has served as a nature guide at local parks and has given lectures to school children and civic groups, as well as lobbied for legislation and written articles and environmental columns for local papers and magazines. She also served for 8 years for Indiana's largest environmental group waking people up to healthier choices for the planet.
She is the author of Teluke: A Big Foot Account and Elevations or AGLA ON Dawning, a book of etheric psalms and wrote a chapter on Big Foot for "The Psychic Sasquatach" by Jack Lapsiritis.
White Song is a practicing massage therapist and Third Degree Reiki Master/Teacher. Her spiritual studies include Energy Medicine techniques, Kinesiology, herbology and natural medicine.
She has enjoyed skydiving and equestrian dressage, has completed a fire walking four times in her bare feet in September 2007 and has experienced the Holy Quickening.